I don't know if you have walked into a college classroom in the last decade, but I think that I have never seen two clocks in college classrooms that were synchronized. You think that with the general centralization of custodial services that people would have figured out how to do time. No such luck.
This blog is often about very simple things that you do when you teach that has often impact. I often put up a timer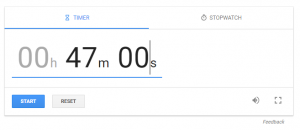 on the board. I usually google it (pictured), though I am sure that there are better ones on the internet. I do this for a couple of reasons. It helps students keep the time. That's really important. Second it helps me keep the time. Third, everyone can see it. It's not disputable.
I think it's part of generally clarifying expectations. For my class time long activities, I put on the clock as soon as class starts, usually for about three minutes before class ends. I do this because if you are working on something until the end of the wire, you will probably end up not leaving up enough time for putting the final touches on something- making sure that the whole thing works together, etc. Going over by ten minutes in the real world would probably not be a problem, but in the higher education classroom environment there is probably another class coming in right then and the next class would probably have started by the time you would be finishing that up. And there's no faster way to campus hell than taking up more than your time.